Word Blitz
Description
Are you a dictionary dummy or a word wizard? Do you think crosswords are easy? Well, maybe you need a new challenge! Word Blitz is a game where you must try to make as many words as you can before your time runs out. This fast-paced game is a good way of seeing which of your friends has the fastest vocabulary.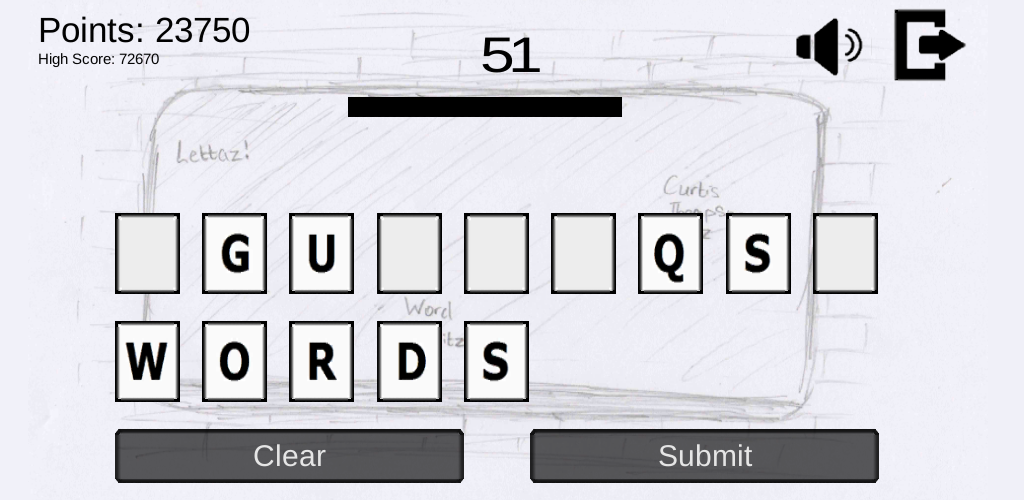 Features
Over 100 billion different possible letter selections
Dictionary of almost 100,000 1-9 letter words
Several different scoring methods
Detailed statistics
Achievements
Leaderboards
Questions
Word Blitz is a game where you must try to find words as fast as possible. You are given nine letters, and have to submit a word that can be made from those letters. The letters will keep changing every time you find a word so that the game is always different. You start with just one miunte to find as many words as possible.
I developed the whole app myself in Unity and by using C#. I wrote all the scripts, did all the graphics, made all the sound effects (with my own voice) and came up with the whole concept. I am also still communicating with players to improve the game and fix bugs.
Releasing the game on iOS is something I am considering in the future.
Click the image above to go to the app's page on the Google Play Store. Alternatively you can search for "Word Blitz" on the Google Play Store.
Points are awarded based on two things; the length of the word created and how quickly the word was submitted. The length of the word is more important, for example a three letter word is worth only 100 points while a seven letter word is worth 1000 points. There is then a time multiplier depending on how fast the word was submitted, provided it was submitted within 10 seconds.